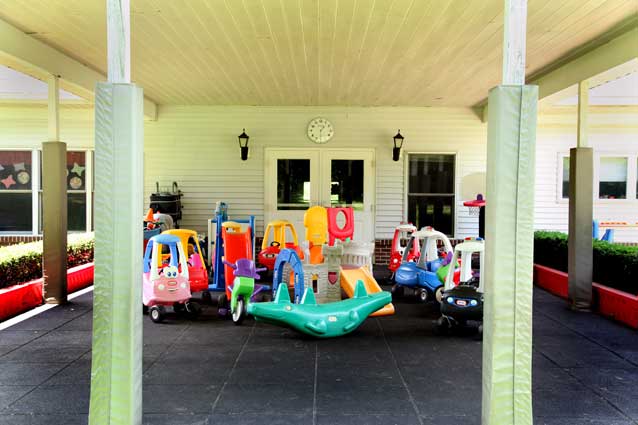 At JTots Childcare and Preschool, we strive to provide a safe, stable and stimulating environment for your child. See what just some of our parents have to say about JTots:
---
To our Friends at Jtots
The time has come, our second daughter will be 'graduating' from Jtots soon. I cannot believe it. Isabelle started her time at Jtots around August 2014 with Maggie & Lisa in the crib room. She then crawled her way over to Jeanne's room. Walked her way over to Toddler One with Kelly & Dian. Ran over to Toddler Two with Laura. Worked her way to Pre-School One with Donna. Started to bust out her shell and probably danced her way over to Pre-School Two with Ally & Allyson. And finally rounded out her time with Therese & Elizabeth in Pre-K. All the while enjoying many meals from Chalynn and under the great care and management of Paul, Alexis and Amy.
Our family is grateful not only for the great way in which Isabelle has been cared for over the years, but also for how much each of you has taught her in preparation for her next adventure- KINDERGARTEN!!
I know that Ryan would be equally as grateful to all of you and extremely proud of Isabelle and all that she has learned during her time at Jtots.
Luckily this isn't a true 'goodbye' just yet as Evelyn will still be a student and I'm positive her two big sisters will be here fairly frequently with me to say hi to all of their friends at Jtots.
Thank you for all that you have done in nurturing Isabelle over the years and for everything that you continue to do for our family.
Sincerely,
Kendra and - Olivia Isabelle & Evelyn
---
Miss Kelly,
Thank you so much for being such an amazing teacher for Samantha! We are so sad she is leaving you, but are so blessed she was with you. You will always hold a special place in our hearts and you have to keep in touch always! We appreciate you so much and you are an amazing teacher.
Thanks for everything,
Tara, Erik and Sammy
---
To Everyone at Jtots,
Thank you for making my time here at Jtots so special. Everyone here has a specal place in my heart. You are a part of my family. You have stood by me and helped me get through some really tough times. Now is the roughest and hardest because I have to say goodbye to all of you. I love you all and will miss you to the moon and back. Take care of each other.
Love,
Ghalyrn
---
Amy and Alexis,
Thank you supporting Anna. She learned a lot at JTots. She loved coming and played with her friends and teachers. She will miss JTots but she is happy to be a kinder student. Thank you for everything.
Have a good summer,
Anna and Hiramine Family
---
On the last day of Paarani in JTots (The Wonderland), we take this opportunity to express our gratitude of conducive enviornment provided to our daughter. She really got soaked in. Paavani has been able to make lot of good friends (which she talks about every day) and learned a lot new words (which are now part of her daily conversation) Story time, water day (the most exciting activity for her) to name a few...
We are sure she is going to miss the days spent in JTots with all teachers and friends
Thanks for taking care of her,
Paarani's Parents
---
Therese,
I can't believe that Kota graduates. We are really happy to meet you. We love all of JTots teachers. Especially Kota loves you. You give big smiles us always. Thank you for big love for Kota.
Thank you for helping me when I lost my home key. I'm very reassured that you are here. You are first friend at USA.
Thank you so much!
---
Thank you for taking such good care of Mia and Julian.
We will miss you, but you all will forever be a part of our lives.
With Many Thanks-
Rod, Michele, Julian and Mia Wallace
---
Dear JTots Staff,
As soon as we cam eot Michigan in 2015, we looked for preschools.
We were very worried and we met Jtots.
The staff were very kind of us. We were relifed.
We feel Jtots is fate and we were attracted to a school of a homey atmosphere. And Jtots has great teachers.
We enjoyed Jtots life for two years and a half.
Thank you for taking care of Yuto and we have lots of memories.
Sincerely,
The Hattori family
---
Dear JTots,
We want to thank you for all of the love & energy you devoted to helping Faith learn and grow over the last 4 years. You are the most wonderful, caring teachers and Faith is really going to miss coming here every week. It has been such a comfort seeing how happy she is at JTots and it definately makes me feel good when she asks not to be picked up before the 5pm activity. Thank you for everything you have done for our family! Please enjoy a little breakfast treat as our small token of gratitude.
The Hoban Family
---
Dear Paul, Alexis, Amy, Therese, Kelly and all of the JTots Family-
Thank you so much for once again opening your doors and your hearts to our family for Lincoln's short stay. Being separated during overlapping active duty assignments for Mom & Dad is tough on everyone, but knowing Lincoln was safe and well cared for eased much of the anxiety. Your willingness to accommodate the unusual circumstsances that challenge military families truly demonstrates your commitment to children
Lincoln will miss his new firends, as well as the smiles and hugs that greeted him every morning!
Thank you again for providing unparalleled flexibility and care!
With Warm Regards-
Paul and Sally Rogers, along with Tim and Kelsey Rogers
---
Dear JTots:
We love you JTots, So we wanted to give you this letter. I love you because you're sweet and nice and because you help and train me.
Therese, thank you for circle time. I will miss your love and help.
Elizabeth, thank you for playing games with me. I will miss your helping and teaching.
I love Shota because he is super smart and cool. I love Saket because he's super big and cool, helps me with everything and is nice. I love Tempie because she's pretty and thats all I have to say. I love Kent because he's always my friend and he's cute.
I'll always remember JTots because it's a lovely place & I love it. Goodbye JTots. Thank you all the teachers for teaching me. I love all the kids and all the teachers at my school.
Love, Niko
---
To JTots Management,
Wow! Tarini's 2 years anniversary with JTots is coming up fast. I was planning on sending this note as soon as Tarini moved out of PS-2 but for some reason didn't get implemented until today. We really want to thank you from our bottom of our heart for the love and care you had given to our daughter in PS-2. We were very much impressed with the commitment from the staff to provide a safe, stable and stimulating environment for our daughter. First and foremost is the lovely and wonderful teachers, Ally and Allyson in PS-2 who loved and cared my daughter every day. I can't tell how much my daughter loves them back and it was evident why she wasn't happy to spend few hours in Pre-K while in PS-2. We have had a chance to interact with teachers on a daily basis and they always maintain a smile on their faced and provide us a feedback. We can understand how hard it is to keep smiling even after maintaining those many kids for hours together. Special thanks to Allyson for paying special attention to Tarini few days based on our concerns/instructions. It's always nice to see her going extra mile to make my daughter's day comfortable. One thing we realized after seeing the teachers you have that JTots pays utmost attention in recruiting the staff who are kid friendly, patient and most importantly compassionate.
Once again we thank you for taking wonderful care of our daughter.
—Sincerely, Parents of Tarini, Pre-K
---
Dear JTots Staff,
The past year and a half has been incredible thanks to all of you wonderful people. I feel so lucky to have been part of this amazing JTots family! I'm very sorry that I was not able to tell you all sooner about our departure. I am terrible at goodbyes. I will miss every single one of you so much. I loved all of the JTots outings that I was able to be a part of. I wish that we had more. I wish you all of the best and if I get the chance to stop by, I absolutely will.
— Carissa
---
Paul, Alexis, & Amy:
I can not thank you all enough for having a wonderful place like JTots. Ben absolutely loves going there every day. Thank you for your wonderful environment and staff. Ben is just thriving and we couldn't be happier.
We wish you the happiest of holidays and enjoy time off with your families.
— Thank you for everything, Tom, Lindsay, & Ben
---
JTots Family:
A simple card doesn't even begin to scratch the surface on our gratitude for you all over the last almost 5 years. Making the decision to trust complete strangers with your babies is incredibly difficult, but you have all made it so much easier. You have become an extension of our family. Sometimes it's one of you that is requested at 2am (& we all wish you were there!). Thank you for caring for our family so deeply, teaching them the things we cannot be there for, and being a second home. We wish you all the best, and will always have a special place in our hearts for you. We hope to see you around town or for a special visit. (And we love babysitters, too!)
— Thank you again and see you soon! Tom, Lauren, Liam, & Miles
---
Paul & Alexis
November 2017
We count you and the Jtots family among our many blessings this year. Your excellent care of little Lincoln during deployment put everyone at ease. Thank you for opening your doors and hearts for his short stay.
— Paul & Sally Rogers
---
We truly appreciate all the care you have given our family. Both boys have grown so much and we thank you for their good behavior, excelling in academics, and all around social disposition. We miss you terribly and think about all the wonderful teachers often. I wanted to take moment and personally thank Therese and Elizabeth for their patience and dedication. You girls are amazing teachers and do a fantastic job at preparing the children for Kindergarten. Continue doing what you do and each child will blossom in each on of your classes.
We love and miss you.
— Dawn and Billy
---
August 2017
From 5 months old to 5 years older, each of you have played a significant role in Olivia's life and helped her achieve her key milestones during her time at JTots. She learned to crawl in Maggie & Lisa's room, started walking in Carol & Jeanine's room, started talking more in Kelly's room, started to come out of her shell in Laura's room, potty-trained in Donna's room and then truly flourished in Therese & Elizabeth's room.
Thank you for all the love and care that you have given Olivia over the years. Thank you also for all of your hard work in helping her achieve so many milestones and preparing her for the next big one – kindergarten!
On a personal note, knowing Olivia was with each of you made mine and Ryan's workdays go by smoothly and care-free since we knew Olivia was in the best hands. For that, we sincerely thank you from the bottom of our hearts.
We Look forward to sharing stories of Olivia's future success with you during the time that Isabell & Evelyn will be here at JTots.
Thank you again for everything. We truly cannot say that enough times!
— Sincerely, Ryan and Kendra Fecho
---
Dear JTots Family
August 2017
We are extremely happy with JTots and want to take this opportunity to thank each and everyone at JTots. Samarth had a wonderful expereince and immense joy during his time at JTots. We would definitely keep these memories for the rest of our life. We wish Jtots best of luck and Samarth will definitely miss all his favorite teachers at JTots. We would strongly recommend JTots in Farmington Hills to our friends and family. A special thanks to Therese, Allyson, Carrie, Erica, Donna, Ashley, Laura and Kelly.
— Thank You, Krishna and Prasanthi
---
Dear JTots
Thank you for the great care you have given to Nathan during the time he was at JTots Preschool in Farmington Hills. He had a great time there and developed a lot from little baby to little kid. He is going to miss you all very much!
— Sincerely, Nathan, Claire and Remi
---
Dear Paul, Amy, Donna, Gabby and the Entire JTots Family
Feb 2017
Thank you for taking such wonderful and loving care of Mihir all these years. Thank you for being an amazing care provider and for the love and attention that he received while his stay at JTots. We will truly miss you.
Thank You!
— Mohit and Charu and Mihir
---
JTots Team! (Amy, Ashley, Alexis and Paul)
Thank you for all that you and your team does for Ben, he loves coming to JTots everyday and you have made just the perfect place for him and us! We have such comfort in knowing he is in the best care with Maggie, Lisa and Kayla. Thank you for all you do!
— Our Best, Lindsay, Tom and Ben
---
Dear Paul and Alexis
August 30, 2016
This letter enthusiastically recommends JTots Childcare and Preschool located in Farmington Hills, MI. JTots has provided childcare services for our two daughters, Reagan and Reese for 2.5 years.
While they attended JTots, the girls learned everything from their shapes, colors, ABC'S, numbers, sight words, art appreciation and even computers. Beyond these academics skills, they learned imporatnt life skills like sharing, patience, understanding and love. I personally believe all of the instructors excel at meeting the developmental needs of each individual that attends there. Due to the attention that each teacher (specifically Amy, Carrie, Elizabeth, Sarah, and Chalynn) developing social and beginning learning skills, our daughters were more than prepared for kindergarten when it came time, JTots also reinforced respect and care for others, which is evident in the caring, respectful way both girls treat other children.
It is with mixed emotions that we leave JTots, although we are excited to watch the girls enter into kindergarten and 1st grade, we are sad to leave behind the teachers that have had such an impact on their lives from an early age. Each day we entered the building and each day we left for the day, everyone at JTots greeted the girls with hugs and love, and for that we are truly thankful.
JTots has provided both of our child with all the life, learning, and discipline skills necessary to thrive in kindergarten, and we can't thank them enough. We highly recommend JTots. Thank you Paul and Alexis, as well as your staff for helping our daughters grow and mature while under your care the last few years. I know they will always cherish their time at JTots.
— Sincerely, Ken and Erin
---
Kelly:
As Dylan's time at Jtots comes to an end, we wanted to thank you for taking such great care of him in the toddler room. Your love for every child is very easy to see, and it gave us great relief to know that you were watching over him each day. We are truly grateful for the excellent care that you give to each child. Please don't be a stranger....You are welcome in our home anytime!
— With Love, Henry and Amy
---
JTots Teachers,
August 2016
You have been wonderful working with Victoria. We appreciate everything you have done and you will be missed. Thank you for being wonderful caregivers and teachers. I know Victoria loved being at your center and was always so excited to go to school.
— Mrs. F
---
Dear Paul
July 2016
Everyone at JTots has been much a big part of our girls lives for so long, it's difficult to think about leaving. I do hope to talk to you about possible drop in days if needed once the school year begins. Jason and I cannot thank you enough for everything JTots has given our girls. JTots was the only place I ever considered and our girls have thrived. We are forever grateful!
— Sincerely, Carla and Jason
---
Elizabeth,
March 2016
Thank you so much for taking good care of Molly. She has leanred so much and has such a beautiful little mind. As a mom, our kids are the most important people in our lives. You made it very easy for me to leave Molly, knowing I could trust you to love and teach her ABC'S and 123's as well as important life lessons. I will always remember that you are a HUGE reason that she has turned out the way shei s. Smart, Polite and Curious. We will miss you a lot!
Thank you again for everything!
— Tonya
---
Teachers & Staff,
March 2016
I can honestly say that I hoped this day would come later than sooner. It is with a very heavy heart and a couple of years worth of changing my mind about moving Molly's daycare/school closer to home, that the day is finally here. I appreciate everyone there more than words can say. Molly has learned so much since she started there in the Infant Room, (Almost 4 years ago). Thank you for being wonderful and taking such good care of Molly. I appreciate you all.
— Tonya
---
Laura
October 2015
I really wanted to write a letter to you because Tiana misses a lot going to JTots Preschool and Daycare in Farmington Hills ever since we moved to Japan. She says so many times "I like Laura a lot"!. She also mentions a lot about Jason and Emily. She misses them so much including you, Laura. Looking at her like this makes me sad to realize that she can't see you and her good friends at JTots anymore. She still plays talking in English telling about Circle Time. It seems she really loved this "Circle Time". I just wanted to let you know how much Tiana misses to see you and her friends as well. If you don't mind, I would send you some pictures of her regularly so that at least you would think of her and remember her.
Thanks Again,
— Best Regards. Tiana and Aiko
---
To the JTots Family
May 29, 2015
We want to say thank you to all of the JTots staff for caring for Derek over the past few years. We feel that not only was he cared for but he was cared about a great deal. After we visited JTots for the first time when we were in the parking lot leaving Derek said, "I like that place". That is something we will never forget and we took that to mean that JTots was the right place for Derek. Derek has always enjoyed going to JTots and he will miss all of his friends and teachers. He has no doubt shared his love of sports with all of the people he has crossed paths with over the past few years. We know that Derek was loved and well taken care of while we were at work and we never had concerns about how Derek was doing during the day knowing that the teachers were taking care of him. We can only hope that the schools Derek goes to in the future will be as loving and caring as JTots has been.
From our family to yours, Thank You!
— Brian, Rebecca, Derek and Natalie
---
Alexis and Paul,
April 20, 2015
We wanted to write a quick note to let you know how much Reed enjoyed Donna's room. Even though he has moved up he still says Donna is his favorite teacher at JTots. She is so sweet and caring and we are glad Reed was in her class. Donna and Chalynn make a great team and we appreciate them!
— Jen and Randy
---
Hi Deanna & Kelley,
March 2015
This is just a small thanking note to both of you for sharing the sweet and nice things about Samarth which we felt so glad upon knowing. We also want to thank both of you for all the love and care he's getting from you. Its a wonderful feeling to know that he's learning lots of things at the daycare espicially with a nice group. We also want to let you know that he reminds us about both of you almost everyday and when he reaches home and sleep time. He shares what he did at daycare, like playing with both of you and his friends in his own little words. We listen to him talking about you like...Kelley, Deanna....."Bumble Bee" or "Walk O Joe" at least twice a week. There is no doubt to say that my child has already built a nice bonding and loves you all. Jtots Preschool in Farmington Hills is his second home.
— Warm Regards, Krishna and Prasanthi
---
Paul and Alexis
We will definitely miss all you guys. I have always felt comfortable leaving my children there. And I know the boys have always loved coming. We will continue to refer all our friends to you. We have nothing but wonderful things to say about our experience with JTots. We wish you all the best!
— Thanks, Tracy and Ryan
---
Dear JTots Staff,
September 2014
Thank you so much for everything you've done for Ben and Kaitlyn over the past 5 years. Each one of you added a little something to their lives and contributed to their amazing development. We truly appreciated your teaching, caring, guidance and TLC (espically Kaitlyn) throughout the years! You all will be greatly missed. Thank you so very MUCH!
— Dave and Kristen
---
Amy,
I really want to thank you for taking such good care of Shravya. She always looked forward to seeing you in the class. You really helped her a lot to come out of her shell. I could not trust anyone more than JTots Daycare and Preschool in Farmington Hills to take care of my child. Navya (My little one is joining in September).
— Swathi (Mom)
---
Dear Amy,
Words can not express the depth of gratitude we have for all you have been and done for our girls at JTots. You will forever hold a very special place in our hearts and our family! Thank you for loving and nurturing Hanna and Reese for the past 3 yrs! We will miss you more than words could ever say.
JTots,
Words cannot express how very grateful we are for all the love, kindness, generosity and dedication you have shown our girls during our time at JTots! You will always be in our hearts, and we will miss you very much!
— Love Matt and Kelly.
---
Dear Chelsea,
Thank you so much for all your work and playing with Luke. He adored you immediately, and it was always great to see him walk staight to you with outstreched arms for his morning hug. It made it so much easier for me to know how loved he is at JTots. You're a great addition to JTots and T1.
— Steve and Shannon
---
Dear J-Tots Teachers and Staff,
Thank you so much for the years of great care for both Jack and Ellie. We really appreciated all that you've done to make us feel good about having the kids there. We wish you all the best and hope to see you down the road:).
— Many Thanks, Jamie and Roberto
---
Dear Elizabeth,
April 2014
Thanks so much for taking great care of Luke over the past few months! He has really enjoyed Toddler Two and we are impressed with how much you have taught him. We've had fun working with you also- you're so funny and positive! :) Luke will surely miss you! Thanks Again!
— Jason and Stacy
---
Kelly
April 2014
I want to thank you for all you did for Luke. I appreciate you working with him on walking and participating in activites. I also appreciate you advocating for him before he was even in T1. He really flourished with you, and I believe it's because he knows how much you care for him and that you treated him like any other child (i.e not letting him get away with anything just because of his special needs). Thank you again! You are a wonderful teacher and person!
— Shannon and Steve
---
JTots:
March 28, 2014
I wanted to thank you all for taking such great care of Grier. She has been so happy, and I have never doubted that I made the right choice in bringing her there. She absolutely adores all of her teachers and everyone in the building! She is going to miss every single person. I'm sure you've heard it before, but as parents, you can't ask anymore than for happy and healthy children. I know Grier is loved and watched over by people who truly care about her! Our entire family will miss you all. Thank you all again. Especially Odessa, Carol, Jeanne, Maggie, Lisa, Susan and Therese for making it all a joy and helping us raise our smart, spunky, funny little girl. I appreciate you all so much!
Love to you all!
— >Grier and her Family!
---
To All Kallen's Teachers,
March 14, 2014
We are truly blessed that Kallen was able to have each and every one of you in his life! We are beyond grateful for the love you all have given Kallen over the last 2 years... it made being away from him easier because we knew how much he was loved and cared for! You have all made an impact on Kallen's heart in some way and we will forever be thankful for you! Thank you for loving him so much and being such amazing caregivers! We will miss you all!!
— Love Kallen, Marc, and Ryanne
---
Paul, Alexis & Therese
December 2013
Thank you for running such a great daycare place. I am always impressed by the quality of the care givers here, which is a reflection of you. Also thank you for all the flexibility you show. Have a Wonderful Holiday!
Felicia & Kristan
I just wanted to add how much Luke is loving Pre-School 2. Felicia is truly amazing. Her warmth and level of energy she shows the kids makes me feel "better" as I increased Luke to Full Time. He enjoys going to school now. Kristan is a great caregiver as well, always with a warm smile. Thank you for attracting and retaining great care givers.
— Arthur and Shannon
---
Toddler Two,
Thank you so much for everything! We are sad to see Harrison moving on but will always remember--and deeply appreciate-- all you have done for him. He still asks Miranda to pretend to be Mrs. Laura and we know this is because you hold a special spot in his heart. Thank you too for being so good with a nervous Dad dropping his little boy off for the first time. Thank you so much!
— Miranda and Adam
---
Dear Kelly,
November 2013
Thank you so much for taking such great care of Reed. We are very thankful that both our boys were lucky enough to have you care for them. Reed will really miss you! In fact, he says he misses you the days he is home :). Thanks again so very much!
— Jen, Randy and Reed
---
Hello,
I have been wanting to write this note for a while, but I just wanted to let you know how pleased I have been with Luke being in pre-school class. Donna and Sarah create such a great environment, and give Luke the warmth and attention he needs. They are both such genuine caring people and are true assets to JTots. I really appreciate all that you do.
— Thank You, Shannon
---
Dear Alexis, Paul and the Staff at JTots
August 16, 2013
We wanted to congratulate you all for completing 25 years of running the show :). We know it has been a lot of hard work and dedication. Kaddos to you Paul and to you Alexis in making JTots Preschool In Farmington Hills grow older with pride and joy.
— Love and Wishes, Neha, Nitin, Arrshia, and Sidhaant.
---
Paul and Alexis
June 6, 2013
We just wanted to write a note to let you know how much we appreciate Jeannie in the infant room. She has been so caring with Reed and he has really enjoyed being in the infant room with her. She has gone above and beyond-even staying late at times so that Reed would not get upset. We greatly appreciate everything that she has done to make Reed comfortable in the infant room.
We are thankful for Jeannie, Carol, Odessa and all the caregivers who have looked after Reed. You really have a wonderful team of caregivers in the infant room!!
— Jennifer and Randy
---
Dear Paul and Alexis
It has been a pleasure for our daughter to grow and learn with your wonderful staff. I belive it has been almost 3 years that she has been with your school and she has enjoyed it so much. She always had a stroy to tell everyday. I would like to thank you both.
— Thanks so much! Renita and Tyrome
---
Dear Kelly & Leah
May 2, 2013
Thank you so much for your letter about Aidan. It was so sweet of you to take the time to write such an insightful, loving note. It is clear you really take the time to know the children. As a parent, I love to hear about my kids anytime! Your letter will be kept as a nice memory of his time at JTots! Thank you for your time and taking good care of Aidan over the last year. We always knew he was in good hands with you!
— Thank You! Kevin & Stacey
---
Dear Paul & Alexis!
02/28/2013
Our family cannot begin to express our gratitude for all the hard work, effort, love and dedication shown to our son. This was our first experience with preschool and we could not have chosen a better place for Daut to grow, learn and develop his early learning and socail skills. As we are foreigners, you gave our family the confidence and trust we were looking for in a school. It is a very difficult decision to leave your children with people whom you hardly know, but your reassuring and understanding made the decision very easy. Although the time comes for every child to move on to the next chapter of their life, we are truly going to miss each and every person at JTots. We thank you so much for all of the love and support you have shown our family. It is truly appreciated. Thank you and we love you!
— Yakupov's Family
---
Dearest Kelly,
9/25/2012
Nitinn and myself would like to thank you from the core of our hearts for being so wonderful, carring and loving to Arrshia and Sidhaant. The fact that you were there to take care of them when they started JTots made us feel so much more comfortable. Remain the person you are (forever) and I know there are several moms and toddlers who will be smiling to be with you!
— Love and regards, Neha and Bhanot
---
Dear Paul and Alexis
We are very sorry for the last minute change of plans. Thank you very much for being so understanding. We truly appreciate the care you and everyone on your staff has given our kids-from Maggie to Amy and everyone in between. It is hard to believe the years have passed so quickly since we first dropped off our 10 month old baby girl in Dec, 2007. The care our kids have received at JTots has made my decision to continue work so much easier. We love knowing our kids are so well cared for, learning new things and having lots of fun! Thank You!
— Nina and Jeff
---
Dear JTots Team,
Thank you for the wonderful time. I enjoyed every minute and I will miss all of you. It was a great learning experience. I will keep on singing my ABC'S and counting my toes :) It's soooo hard to leave. I will miss my good-morning-hugs from Laura. Special thanks to my "Laura" I really loved her and she will always have a place in my little heart.
— Your Mina
---
JTots Staff:
June 1, 2012
Melinda and I would like to thank the entire staff at JTots for taking great care of our daughters Elizabeth and Charlotte. It is great peace of mind for us to leave them in your care, and the girls really enjoy being there with your staff.
Our girls are so different, but both have grown so much since attending JTots. Elizabeth is quiet and timid but has gained so much more confidence and we hope she continues to gain more confidence every day. Charlotte never lacked confidence, but is learning a lot and loves being there so much we have to chase her at the end of the day to take her home! Thankfully, it also seems like she's past her dirt eating phase (we hope!).
I joke with the teachers about their need for caffeine and endless patience to manage so many young children, in addition to the patience needed for helping me (the crazy daddy) with drop-off and pick-up of my 2 girls. But all kidding aside, we are truly impressed with the patience, positive attitude (everyone there is always friendly and has a smile), and professionalism of the staff.
We don't always take the time to thank you all for your hard work and the wonderful job you do with our kids-so thank you for everything. We are so glad we chose JTots.
— Sincerely, Tim and Melinda
---
Dear Paul, Alexis, and Therese,
11/1/2011
Although we are so excited about our upcoming adventure, we are also so sad that we cannot take JTots wherever we go! It took viewing 12 different centers before we found JTots, and we are so glad that we did! David has had nothing but good times at JTots, and we love how he heads home singing new songs and counting higher all the time. We feel JTots is such a perfect balance of education, fun, and love! Please feel free to use our family as a reference if ever needed-we have nothing but good things to say about David's times at JTots.
— Sincerely, Charlene and David
Follow-up from Charlene and David:
January 24, 2012
Greetings from California, we finally made it here! We are in the process of getting settled at this point, but things are going well :) We had David in school in Chicago and now one here...but nothing compares to the love and quality care he recieved at JTots-we were so blessed to have spent time with you all! We will surely bring David by when we are in town next!
---
Paul and Alexis
August 2011
Thank you for the gift certifictae to Focal Point. We went and had Alison and Sam's Picture taken and they turned out great! I asked Ann to bring in your copy of Alison's picture. I hope you guys are doing well. We certainly miss JTots, because we started there with Alison we didn't appreciate how much better it is then all the rest. Thanks again for eveything!
— Dawn and Denny
---
Dear Paul and Alexis
June 28, 2011
We wanted to thank you and your staff for keeping both Ryan and Julia safe during their respective times at JTots. We cannot tell you how much we've appreciated your patience, understanding, and genuine caring for our children. In addition, the instruction that Julia and Ryan both recieved from your outstanding teachers better prepared them for kindergarten and Hillside Elementary. In fact, Julia, who will be the fourth grade in the fall, still sings songs and remembers games and events that she participated in at JTots.
We are planning to attend the ceremony for JTots "graduates" in August. Although it is sad to leave, we know that Julia and Ryan's lives have been enhanced by their experience at your school. We truly appreciate the years that we have been a part of the JTots "family."
— Thanks Again, John and Ellen
---
Paul, Alexis and the entire J-Tots Staff,
It is very bittersweet as we leave J-Tots Daycare and Preschool in Farmington Hills. The girls have been taken care of wonderfully the past two and a half years by you all. You've shown them lots of love and taught them so many things. We appreciate all your hard work. We hate to be leaving, but feel it's important for Juliet to begin building relationships with her future schoolmates. Hopefully, we'll be able to stop by on occasions so you can see the girls.
Thank you again!
— Sharon, Jeff, Juliet and Kate
---
Paul, Alexis and the entire JTots Staff
We just wanted to take a moment to thank all of you for the wonderful care you have provided for our son throughout the years. Logan has absolutely loved every day he has spent at JTots and actually had tears in his eyes as we drove home after his last day. He has loved all of his teachers and all of the friends he has made and has come away with an abundance of knowledge. You provide parents with total peace of mind, which is a priceless gift. Thank you so much for your dedication and hard work. We wish all of you the best!
— Sincerely, Jessica and Rick
---
Dear Paul and Alexis,
This year at Jtots were special in Matias and Manuel lifes. For sure we will think of you very often. Whenever you plan some vacation to Europe you know where to stay..in Germany.
Thanks!
— Pablo, Matias, Brenda and Manuel.
---
Kelly,
We wanted to thank you for all the love and care you've given to our family over the years, and espically to Ryan over the last few months. Both Anna and Ryan flourished so much in your room, and it's obvious to us how much fun they had along with all of the learning and growth. It can be a tough age, and we wonder how you can manage a whole room of them :) We really love all of the art projects Ryan has brought home, and the memory book you gave us at Christmas is wonderful. We will treasure it more and more as Ryan gets older. You've been a special part of our time at JTots, and certainly a reason we trust our kids there! Thanks for everything and I'm sure we'll be back to say hi!
— Ryan, Anna, Stephanie and Mike
---
Paul and Alexis
It is not possible to fully express my appreciation for the care you provide for Billy at JTOTS. I am grateful that my son has such a warm/nurturing environment in which to grow, while away from home. It is also absolutely wonderful knowing that he is so well-cared for and safe, so I can focus on school while he is with you! I genuinely hope that your holiday season is blessed with God's love and light.
Thank you so much!
— Dawn and Billy
---
August 13, 2010
To: All of our Teachers/Friends at J-Tots Childcare and Preschool
From: The Warner Family
After 11 years, and 4 children who've moved from the Crib Room through Pre-School 3, it is a bittersweet moment to say good bye to you all at J-Tots. We are excited to see Sabrina enter Kindergarten (and to no longer write a monthly tuition payment!). We are also sad to be leaving all of you who have been so much a part of the life of our family.
You have earned our confidence and respect with your organization, professionalism, patience, cleanliness, frankness, receptiveness, and joy in teaching our children. Our children have enjoyed coming to J-Tots, learning, and making friends. With our busy life we appreciate being able to count on you!
We value the stability of J-Tots teachers and staff and consider ourselves very lucky that many of the homeroom teachers have been there the entire time that we have: Maggie in the Crib Room, to Maureen in Pre-School 3, to Angie in the Kitchen, and many others in between.
Our three older children were very will prepared for Kindergarten and beyond (we believe our fourth has been as well), with all the skills and knowledge they obtained at J-Tots, for which we Thank You!
We look back fondly on many of our favorite things:
Halloween Costume Party, Mothers Day Ice Cream Social, Father's Day Breakfast, WATER DAYS!, Sledding in the snow, Ground Hog Day Projects, Butterfly experiment, Computers on Tuesday, Focal Point Photos taken on-site, and Graduation.
You've also worked with us on the things all kids must learn (i.e. Potty training).
We've been a reference for years, and are happy to have you share this note with other families considering J-Tots for their children.
We will miss you!
— Maureen, Mike, Olivia, Ana, Zach and Sabrina
---
August 12, 2010
Paul and Alexis
I do want to take this time to thank you. Jackson has grown so much in the last year at JTots. He came to you so shy and now he has come into his own with confidence and has met many friends. He now even, at times, can be too outgoing and rambunctious. We treasure the songs he comes home singing that he has learned in his classroom. I also want to thank you for being so willing o work with us and being flexible with Jackson's condition. This was a major concern when we were searching for a daycare. You and your staff were very open to learning the ways to care for Jackson specifically, and I can't that you enough. You have my deep appreciation.
Our family is expecting a new addition at the end of February. We are hoping that our new little one will attend JTots in the fall.
Best wishes to you and your family. Have a wonderful year! Thank you again.
— Sincerely, Tammy H.
---
Laura and Teresa
We'd like to thank you so much for making Niklas' Daycare days to real special days for him. He'd loved coming to JTots Preschool in Farmington Hills and especially to Toddler 2. We can't count the days when we picked him up and he cried in the car "More Daycare!". He'll really miss his friends and Miss "Lola" and Teresa. You did a great job! Thank you so much and all the best for you.
— Katrina and Christian
---
Dear Laura, Teresa and Kelly
We just wanted to send you a thank you note saying how much we appreciate the care you give our son Gabriele.
On March 22nd when we walked in with Gabe, we were worried seeing him cry his heart out. Today you guys have done miracles with him. He loves to go to JTOTS everyday and spend the day with all of you. He has also learned a lot of good things like good manners, eating good and lot other good things.
Thanks you for all the help in raising our son Gabe. We would also like to thank all the staff who take turns in toddler two.
— Sincerely, Jude and Neeraja
---
July 20, 2010
Dear Paul:
I want to thank you for all the years of quality care that Lauryn has received. During her Kindergarten orientation she really impressed the teachers with her knowledge of letters and numbers as well as her handwriting, speaking and social skills. I contribute her success to her years at JTOTS.Again, I want to thank everyone at JTOTS for all the attention and care Lauryn has received.
— Warmest Regards, Erin
---
Dear Paul and Alexis
This is just a note to let you know how happy we are with Lily's progress lately. Kelly has done an amazing job working with Lily on her speech and language development and we are so happy with how far she has come. She is learning so many new words, songs, concepts, and skills and we really appreciate all of the care and attention Kelly and Lisa have given her. She loves coming to school and sometimes doesn't want to go home and that along with everything she is learning about the world and socializing with others is wonderful!
Thank you to you and your staff!
— Sara
---
Dear JTots Families, Teachers and Friends
July 21, 2010
I am sorry that we have been so slow in communicating with you. With all of the care that Kate requires, the days just seem to get away from me. I can't believe that six months have already passed since she was diagnosed.
I wanted to reach out and let you know how much all of the notes, gifts and posts from you mean to us. Thanks for taking the time to brighten Kate's day. This has hands down been the most difficult year we have ever faced. Thank you for all of your support, wishes and prayers. They have helped us out during some of the toughest moments. During the process Kate has gone from being such a socialized kid to being so very sheltered and isolated from the world. She very much misses her JTots friends and teachers. Thank you for showing Kate that she is still remembered and missed.
The good news is that she is responding very well to treatments and is now considered to be close to remission. We still have many hurdles to clear in her treatment but for now are feeling positive about Kate's progress. Thank you for keeping us in your thoughts and prayers.
— Love to All, Karin
---
Dear JTots,
6/21/2010
Kyler has thoroughly enjoyed his time at JTots Day and Preschool in Farmington Hills, and we have enjoyed his being there. It was a pleasure watching him progress through the different classes and to see the different teaching styles. We have and will continue to recommend JTots to other parents. We wish you continued success.
— Thank You, Eric and Laura
---
Thank You so much for working with us this year and last. Things have been up and down and it's been extremely comforting to know that our children's childcare schedule has remained consistent. Both Ashlee and Mason love their providers at JTots and the growth we have seen in both of them has been amazing. Please know how much we appreciate you working with us! You guys are the Best!!
— Richelle and Warren, 6/2010
---
JTots
June 2010
Thank you very much for everything you did in helping us in the growth and education of our daughter Giulia. She has grown so much and has learned so many things. Please, extend this BIG thank you to all the teachers who have worked with Kelly (T1) for the growth and education of Giulia.
We strongly appreciate your work!!
— Sincerely, Francesa and Marco
---
April 19, 2010
Dear Students, Staff, and Parents:
It is my pleasure to acknowledge the proceeds from the Kate Nagle Princess Fundraiser. What a thoughtful event to honor Kate.
When I heard about the fundraiser at JTots my first thought was how is Kate doing? How is her family? I soon realized that through your creativity and thoughtfulness, Kate and her family know that each one of you cares and that each student, staff, and parent wished to make a difference in the lives of other cancer patients by participating in this fundraiser. Your event proceeds to the Pediatric Cancer Program will help us better understand genetic mechanisms underlying neuroblastoma, acute leukemia, and brain tumors.
We are honored to receive your support. On behalf of all of us at the University of Michigan Comprehensive Cancer Center, please share our sincere thank you and appreciation to all who made the Kate Nagel Princess Fundraiser a success.
— With gratitude,
Debra L. Griffith
Director of Development
P.S. There is always new information on our web site. Please visit www.mcancer.orgto read about the most recent developments at the UMCCC.
---
Thank you for making Darin's day so much fun. In a few days, Darin was able to go from being upset at the morning drop-offs to being very excited about all of his daily experiences. From sharing with his friends to playing Lucky Ducks to learning his colors and shapes, our little "Jabberwocky" has learned so much from PS1. Thanks for all the wonderful experience.
— Faith and Jerry
---
We would like to thank you and the staff for providing a quality, well run, safe and fun preschool/daycare. We appreciate your flexibility with scheduling and won't hesitate to recommend JTots in the future.
— Don and Sheryl
---
We just wanted to say "thank you" for being such a good caregiver for Lily. As new parents, we were very anxious about leaving our baby with strangers. It was hard for me to go back to work, but we quickly saw how wonderful you are with Lily. You have such an important job and you do it amazingly!
— Aaron and Sara
---
It will be with a heavy heart that we leave JTots this fall. Logan will truly miss all of his teachers there, especially Maureen and Felicia. I do know, however, that the education and support he has received there will give him the jump start for Kindergarten. We cannot thank you enough for the wonderful facility you provide for kids and all the amazing staff! Without question, you are the BEST!
— Kristin
---
When I think of the many providers who have cared for my children at JTots Preschool in Farmington Hills over the years, it brings back so many fond memories. It always amazes anyone when I tell them that there are a number of the same people who cared for RJ starting back in 1996 still at JTots taking care of Bridget (2009).
— Cathy
---
I am writing to let you know how much we appreciate Kelly and the care she provides to George and Elyse. Although neither George nor Elyse is in Toddler One any longer, they visit Kelly each evening. Choosing a child care provider as a new mother is a very daunting responsibility, however if one is fortunate enough to find one that provides a loving and nurturing environment, it provides a mother with tremendous comfort and relief knowing that her child will flourish even in her absence. I recognize that I was fortunate to find JTots.
— Lydia
---
Paul, Alexis, & Amy:
I can not thank you all enough for having a wonderful place like JTots. Ben absolutely loves going there every day. Thank you for your wonderful environment and staff. Ben is just thriving and we couldn't be happier.
We wish you the happiest of holidays and enjoy time off with your families.
— Thank you for everything, Tom, Lindsay, & Ben
---
JTots Family:
A simple card doesn't even begin to scratch the surface on our gratitude for you all over the last almost 5 years. Making the decision to trust complete strangers with your babies is incredibly difficult, but you have all made it so much easier. You have become an extension of our family. Sometimes it's one of you that is requested at 2am (& we all wish you were there!). Thank you for caring for our family so deeply, teaching them the things we cannot be there for, and being a second home. We wish you all the best, and will always have a special place in our hearts for you. We hope to see you around town or for a special visit. (And we love babysitters, too!)
— Thank you again and see you soon! Tom, Lauren, Liam, & Miles
---
JTots was recommended to us by a neighbor and we were impressed by the staff and facility, so we decided to enroll our children with some trepidation and the expectation that there would be a difficult transition period and lots of tears.
We were pleasantly surprised that not only did the children respond positively, but the transition was very smooth. JTots staff worked hard to ensure that we felt comfortable when we left and picked up or sons.
We rapidly grew found of the staff and continue to be impressed by their dedication and nurturing environment they provide. The low turn over rate of the staff also speaks highly to the commitment of the owner/management and the positive work environment. We would highly recommend JTots to anyone considering daycare.
— Patricia and Joseph
---
JTots Childcare and Preschool located in Farmington Hills, MI
I just wanted to write a note to say that Jeff and I have been so happy bringing Matthew to JTots. Maggie provides such a loving, environment for Matthew and the other infants in the crib room. I feel such relief at work knowing that my son is receiving excellent care while I am away.
— Thank You, Jacqueline
---
Paul, Alexis, Amy
Thank you for providing a friendly atmosphere for Drew (and Dallas) to learn and grow. All your teachers and workers have been reliable, respectful, caring, and fun-loving. Your work communication, check-in calls, and notes to parents are top tier in addition to the quality care and learning that our sons received under your leadership.
All the Best
JaVaushn and Dawanna
---
Dear JTots Teachers and Staff Thank you all for the kindness and care you've shown LUX while she was at JTots. We've been amazed by how much she has developed and grown during her time there, and its all thanks to the excellent care and nurturing you've provided. Your efforts have meant so much to us. Thank you again. Sincerely, Lux, Ann & Jay
---
Amy, Alexis and Paul, I can't believe the amazing 5 years we have been at JTots. We are overjoyed to see all the friendships Ben (and us) have made, being a Part of this family. You have an incredible team and wonderful, loving group that has changed our lives for the better. Keep doing what your doing! We appreciate you all so much. Please, thank all the staff for us, we know they are all involved! Lindsay and Tom
---
To All of the amazing JTots Staff, Thank you so much for everything that you do for our children! We are so lucky to have found a place with people who treat our kids like their own! I can't tell you how nice it is to not have to worry about Sammy and Drew while we are at work. We know they are in the best hands ever. Thank You for everything that you do, and I am simply amazed by how much my kids have learned so far. Tara and Erik
---
Amy, Alexis, Jinan and the entire staff of teachers and helper at JTots, We are very thankful to all of you for providing a safe, happy and loving environment for Milo, Oliver and Willa the past 4 years! Through COVID and everything else, you've been like family to our kids and are so patient and understanding with them. They are going to miss all their friends and teachers at JTots! Thank you for all you do each day. Scott and Gina
---
A small token to show our appreciation for the wonderful care you provide to Anna and all the kids! JTots is truly like a second home to Anna, and we are very grateful to each of you for making us all feel welcome and comfortable! The Sutherland Family
---
Dear JTots, Now that we are moving on to another chapter, I wanted to give you a sincere thank you to all the teachers and staff at JTots. We couldn't have asked for a better partner in the first few years of Julian's life. We are truly grateful what you've been able to instill in him in his early development years- a sense of security, a sense of joy and of being loved, and sense of curiosity and discovery that every child deserves. With gratitude, Minyang and Tony