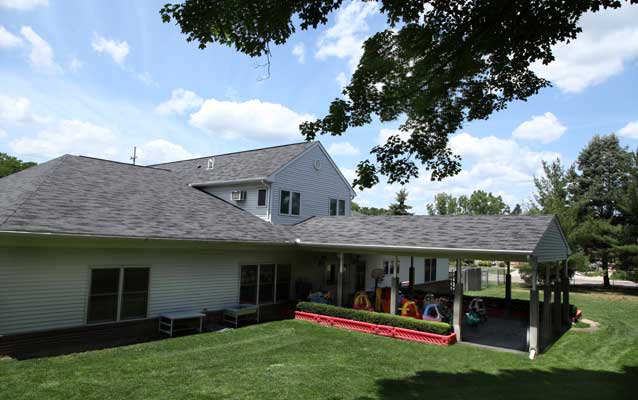 JTots Childcare and Preschool offers a variety of programs for your child based on the child's age, needs and abilities. Proudly serving Farmington Hills and surrounding areas since 1988, we have a program that provide a safe, stable and stimulating environment for your child.
Infant Program Toddler Program Pre-School Program
---
Infant Program
JTots' Infant Program is based upon traditional values of love and tenderness that are found in a family situation. Understanding the need for a safe, stable, and stimulating environment for newborns and infants, JTots provides both the physical accommodations and level of personal caring that are essential during the start of a child's life.
At JTots, we believe that each child is an independent and unique person, with different needs and abilities. Positive bonding and an attachment to JTots' loving caregivers will provide infants with the emotional security that is an important part of a child's developmental foundation.
In addition to the basic elements of care, e.g. feeding, diapering, holding, etc., the staff at JTots will continually express to children that they are valued and loved. For infants, little actions can create big differences:
Using the child's name when interacting with her.
Looking into an infant's eyes when talking to him.
Using a kind tone of voice and gentle touch.
Reacting to their movements with praise and delight.
These are just a few examples of the one-on-one, personal touch that JTots' staff of trained and experienced childcare providers will offer to infants. Although a "play-based" childcare program, the activities at JTots continually develop the social, emotional, and mental capabilities of children.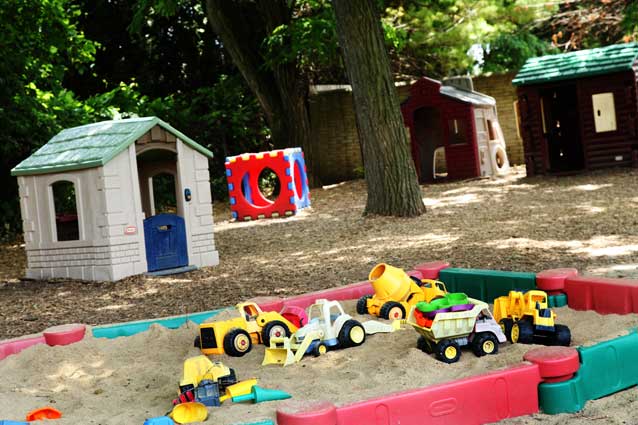 Toddler Program
Needing more than "basic" Infant care, but not ready for the curriculum that challenges a Preschooler? JTots' Toddler Program recognizes the transitional phase that these young children are going through. Throughout the growth of a toddler, vast differences in physical, cognitive, social, and emotional abilities are evident between children. In one child, verbal skills may be very advanced, while gross motor abilities are lacking. Another child may have wonderful recall and memory skills, but interact poorly with peers.
JTots' Toddler Program focuses on all aspects of early childhood development, allowing children to grow and learn at a pace they are comfortable with. JTots' small groups and attentive staff allow children to excel with their strengths, and further develop areas that may need assistance. JTots will constantly strive to enhance the child's level of self-esteem and confidence, offering a balance of familiar situations and new challenges to their young, growing personalities. Individual Home Rooms provide children with a familiar, comfortable space, while the ability to interact in several different areas throughout JTots offers new and exciting opportunities for learning.
Throughout the Toddler Program, JTots will provide a safe, stable, and stimulating environment, helping each of the children to begin to explore and understand information about themselves, their family, their friends, and the world around them.
Pre-School Program
JTots' Preschool Program is based upon traditional principles of child development and early childhood education. The general content of JTots' Preschool Program is similar to the discipline areas found in school-aged education. These areas include Language Arts, Health & Safety, Math & Science, Social Studies, Physical Education, Art, Music, and Drama.
At JTots, we understand that learning can be an uneven process; i.e. a child may be strong in some age appropriate skills and lacking in others. Therefore, when developing JTots' curriculum, the following are considered:
General Developmental Levels
Interest/Abilities of Individual Children
Mood of the Children on a given day
Activity limitations during various seasons
Activity levels during different times of the day
The foundation of JTots' Preschool Program is based upon solid goals and objectives. As a focus for its daily operations, JTots has always provided children with a safe, stable, and stimulating environment. JTots' Preschool Program further develops each child's mental, emotional, and social capabilities, empowering them towards:
Appropriate interaction with peers and adults
Self-Esteem and Personal Confidence
Kindergarten Preparation
Language Arts
Language Arts study involves facilitation of children's expressive (spoken) and receptive (understood) vocabulary. These two areas will be enhanced through fingerplays, nursery rhymes, poetry, discussions, and puppetry. JTots has a large collection of wonderful books for children, including Caldecott Medal of Honor Books. JTots will also help to develop listening skills (necessary for conversation and information gathering) and pre-reading skills. Development of hand-eye coordination, awareness of left-to-right progression, and letter recognition are among those skills that prepare children for the writing and reading activities of Kindergarten.
Health & Safety
At JTots, children will learn about what constitutes a healthy diet, adequate exercise, the importance of rest, cleanliness of the body, and care of teeth. While helping to prepare nutritional snacks, in addition to having lots of fun, the group will learn about cooperation, measurement, and other important concepts. Also, information about hazards created by poisonous substances, water, fire, traffic, and strangers will be shared with the children. One of the great benefits of JTots' Health & Safety program is that parents can also learn along with their children, and quality of life may be improved for the entire family.
Math & Science
JTots will introduce many Math and Science topics to preschoolers. Young children learn to observe, experiment, and predict by using their senses in familiar indoor and outdoor environments. Basic Natural Science facts about plants, animals, weather, magnets, machines, flotation, earth, sky, water, and seasons will be presented in fun and entertaining ways. Mathematics concepts will include rote counting, creating sets, number recognition, whole-part relations, spatial relations, and measurement skills. Whenever possible, opportunities are presented that allow children to learn through direct experiences. However, written work will also make up a portion of JTots' Math and Science program. Each of these experiences provides part of the essential foundation for learning mathematics operations and science skills in the elementary schools.
Social Studies
Social Study activities will first focus on learning about self; this is followed by material on home, family, transportation, and the larger community of people we interact with. Because of childrens' strong egocentric nature, it is important to establish a solid comfort level with themselves before moving on to larger concepts of community and culture.
Fine Motor & Gross Motor Sills
"Fine Motor" refers to the small muscle control that is utilized in activities such as tying a shoe and buttoning a shirt. "Gross Motor" relates to the larger muscle coordination required to accomplish movements such as running, climbing, and jumping. Emphasis on overall fine and gross motor skills, and related self-help, not only facilitates a child's physical development, but also affects the child's self-confidence and self-esteem in a positive way throughout childhood. JTots will help youngsters feel good about their physical skills, enabling them to play games, complete crafts, and handle writing implements. Once comfortable with these type of tasks, children develop a better self-image and the confidence to attempt new activities. Gross motor games will contribute to positive physical and mental health by strengthening muscles and helping to release stress and tension. Self concepts continue to be enhanced as children acquire gross motor skills. JTots provides ample opportunities for children of all ages to develop these skills through a variety of indoor and outdoor activities.
Art
At JTots, art is a creative process that allows for choice, exploration, and imaginative expression in a pleasant, supportive atmosphere. Each child's work will be unique and recognizably different. JTots believes that art goals are best reached when emphases is put on process, not product. That is, the effort of the child much outweighs the "look" of the final product. Some art experiences will have a theme base to them, and may be somewhat limited in potential for pure, creative expression. However, JTots will also present many other opportunities for exploring color, form, texture, and discovery of various media in an open-ended fashion.
Music
Music experiences at JTots will help children develop appreciation, participation, and responsiveness to a variety of musical styles, sounds, and instruments. Rhythm, tempo, timing, volume, and pitch are all areas which will be taught. In addition, JTots will send home music and lyrics to many recognizable songs. We hope the entire family will feel a part of their child's musical experiences.
Drama
Dramatics can take many forms, such as imaginative imitation, creative movement, and group cooperation. JTots will be extending the childrens' play by including pantomime, story telling, role playing, puppetry, and fingerplay.